Last updated on March 25th, 2023 by A1 True Jobs
Search engine optimization (SEO) is the process of continuously improving your site's organic rankings on search engines such as Google, Bing etc.
SEO is a popular digital marketing channel because higher search engine rankings can drive targeted traffic to your website.
Which ultimately can lead to more leads and paying customers.
For example, 20,000 people search for your business's product or service each month.
If you can rank #1 in Google for that search term, that can equal a few thousand targeted people visiting your site every single month.
In practice, SEO typically involves:
Creating high-quality content
Monitoring your site's technical health
Building links from other sites
Ensuring your site loads quickly
Having a site that's easy to use and navigate
What does SEO stand for?
SEO stands for search engine optimization. Let's break that down in the context of your website.
Search: What people do when they want to find an answer to a question or a product or service that meets their needs.
Search Engine: A site (like Google or Bing) where a person can perform said search.
Search Engine Optimization: What you do to get said search engine to connect said search with your site.
What is SEO?
That's all well and good, but you can tell me that RPA stands for robotic process automation and that doesn't mean I know what RPA is.
So what is search engine optimization?
A formal definition of SEO: Search engine optimization is a set of technical and content practices aimed at aligning a website page with a search engine's ranking algorithm so it can be easily found, crawled, indexed, and surfaced in the SERP for relevant queries.
A simpler definition of SEO: SEO is about making improvements to your website's structure and content so its pages can be discovered by people searching for what you have to offer, through search engines.
The simplest definition of SEO: SEO is what you do to rank higher on Google and get more traffic to your site.
Yes, Google is just one search engine of many. There's Bing. Directory search engines. Even Instagram is a search engine. But capturing 92% of the market share, the terms "Google" and "search engine" are synonymous for the intents and purposes of this post.
Benefits & Importance of SEO
People are searching for any manner of things both loosely and directly related to your business. These are all opportunities to connect with these people, answer their questions, solve their problems, and become a trusted resource for them.
More website traffic: When your site is optimized for search engines, it gets more traffic which equates to increased brand awareness, as well as…
More customers: To get your site optimized, it has to target keywords—the terms your ideal customers/visitors are searching—meaning you'll get more relevant traffic.
Better reputation: Ranking higher on Google builds instant credibility for your business. If Google trusts you, then people trust you.
Higher ROI: You put money into your website, and into the marketing campaigns that lead back to your website pages. A top-performing site improves the fruits of those campaigns, making your investment worth it.
So whether you want more brand awareness, online visibility, leads, sales, or loyal customers, SEO is your answer.
Types of SEO
Google and other search engines take several factors into account when ranking content, and as such SEO has many facets. The core three types of SEO are on-page, off-page, and technical SEO:
1. On-page SEO: Optimizing the quality and structure of the content on a page. Content quality, keywords, and HTML tags are the key players for on-page SEO.
2. Off-page SEO: Getting other sites, and other pages on your site to link to the page you are trying to optimize. Backlinks, internal linking, and reputation are your off-page MVPs.
3. Technical SEO: Improving your site's overall performance on search engines. Site security, UX, and structure are key here.
The above three types of SEO are used for websites and blogs, but they also apply to three subtypes of SEO:
1. Local SEO: Getting your business to rank as high as possible in Google Maps and on the local results of the SERP. Reviews, listings, and Google Business profile optimization are most important here.
2. Image SEO: A mix of on-page and technical strategies to get images on your website pages to rank in Google image search.
3. Video SEO: A mix of on-page, technical, and off-page strategies to get your videos to rank in YouTube or Google video results.
While all three subtypes require all three core types of SEO, they do vary in how heavily they rely on each core type.
Type of SEO Techniques
1. White Hat SEO: White hat SEO is a term used to refer to SEO strategies that function within the rules and expectations of search engines and searchers. It means implementing techniques to improve a website's search engine ranking without relying on tricks to undermine a search engine's algorithm.
2. Black Hat SEO : Black hat SEO is a practice against search engine guidelines, used to get a site ranking higher in search results. These unethical tactics don't solve for the searcher and often end in a penalty from search engines.
3. Gray Hat SEO : Gray hat SEO is an SEO practice that combines white hat and black hat SEO. Gray hat SEO is riskier than white hat SEO because it exploits the search engine guidelines to increase a page's rankings on the SERPs. Gray hat SEO techniques are black masquerading as white.
4. Negative SEO : Negative SEO, also sometimes called "Black Hat SEO," involves the use of malicious tactics on your site to tarnish your reputation with Google and steal search engine rankings for important keywords to be used on a competitor's site. In the past, negative SEO may have been as simple as hijacking your site with questionable banner ads. However, today's negative SEO has become much more complex and sophisticated.
How does SEO work?
So how does Google determine which pages to surface in the search engine results page (SERP) for any given query? How does this translate into traffic to your website? Let's take a look at how SEO works.
Google's search crawlers constantly scan the web, gathering, categorizing, and storing the billions of web pages out there in its index. When you search for something and Google pulls up results, it's pulling from its index, not the web itself.
Google uses a complex formula (called an algorithm) to order results based on a number of criteria (ranking factors—which we'll get into next) including the quality of the content, its relevance to the search query, the website (domain) it belongs to, and more.
How people interact with results then further indicates to Google the needs that each page is (or isn't) satisfying, which also gets factored into the algorithm.
In other words, SEO works like a complex feedback system—to surface the most accurate, trustworthy, and relevant results for any given search using input from you, Google, and searchers. Your role is to produce content that satisfies Google's expertise, authority, and trust requirements (E-A-T), which satisfy its searchers' requirements.
SEO ranking factors on Google
So what are those requirements? What actually constitutes quality, targeted, EAT-friendly, and SEO-optimized content? Well, there are hundreds of Google ranking factors, and Google is also constantly evolving and refining its algorithm to continue providing the best experience possible, but there are 12 that should be prioritized.
According to FirstPageSage, these are the top Google ranking factors and how they are weighted:
Consistent publication of high-quality content (26%)
Keywords in meta title (17%)
Backlinks (15%)
Niche expertise (13%)
User engagement (11%)
Internal links (5%)
Mobile-friendly/mobile-first (5%)
Page speed (2%)
Site security/SSL certificate (2%)
Schema markup/structured data (1%)
Keywords in URL (1%)
Keywords in H1 (1%)
How to do On Page SEO?
Now it's time to talk about how to actually do SEO—how to optimize your website for these factors so you can rank higher on Google and get more traffic. This requires a combination of on-page, off-page, and technical optimizations, so we're going to organize the steps in that manner. Here are your on-page optimization steps:
Meta Title
Meta Description
Meta Keywords
Favicon Icon
Social Meta Tag
Robots Meta Tag
CSS & Javascript File Minification
Mobile Friendliness / Responsiveness
Sitemaps Updates (XML, Text, HTML)
Content Optimization
SEO-Friendly URLs
Heading Tag Optimization
Image Optimization
Image Alt Text Optimization
Anchor Title Optimization
Internal Links optimization
Use Social Sharing Buttons
Call to Actions
Conversion Form
How to do Off Page SEO?
All of the steps above are on-page SEO strategies. Off-page SEO, on the other hand, is what you do on other pages of your website, other websites, and even other platforms to help your page to rank. Here are some off-page SEO tactics
Creating Shareable Content
Influencer Outreach
Contribute as Guest Author
Broken Link Building
Local Citation
Convert Brand Mention
Use Google My Business
Strong Internal Linking
Social Media Engagement
Social Bookmarking Sites
Forum Submission
Blog Directory Submission
Article Submission
Question and Answer
Video Submission
Image Submission
Infographics Submission
Document Sharing
Press Release
Web2.0 Submission
How to do Technical SEO?
Technical SEO optimizations are done on the back end of your website to make sure it meets Google's site security and user experience requirements, as well as to make it as easy as possible for Google to do its job on your site. Here are some of the main technical optimizations to take care of:
Doctype
Canonicalization
Robots.txt
Schema Markup
Sitemaps Updates (XML, Text, HTML)
HTTP Status Codes
Website Speed Optimization
Web Hosting
Optimized Domain
Redirects
Core Web Vitals
W3C Validation
Google Search Console
Google Analytics
Google Tag Manager
Bing Search Console
Yandex Search Console
Conversion Rate Optimization
How to do Local SEO?
Optimize for Google My Business.
Engage on social media and add posts to Google My Business
Ensure your name, address, and phone number are consistent online
Optimize URL, title tags, headers, meta description, and content.
Add location pages to your website
Create local content
Ensure your website is mobile-friendly
Get inbound links with relevance and authority
Participate in your local community
Google's Ranking Process
Google uses the following stages to find and rank content:
1. Crawling: Google uses "bots" to crawl the web and look for new or updated pages. In order for Google to find a page, the page must have links pointing to it. Generally speaking, the more links a page has to it, the easier it is for Google to locate that page.
2. Indexing: Next, Google analyzes each page that the bots discover and tries to make sense of what the page is about. Google will look at things like content, images, and other media files. It then stores this information in its Google Index (in other words, its database).
3. Serving: Google determines which pages are most relevant to users' search queries and ranks them in the SERPs.
Top SEO tools
As a fairly technical discipline, there are many tools and software that SEO relies on to help with optimizing websites. Below are some commonly used free and paid tools:
1. Google Search Console : Google Search Console (formerly known as "Google Webmaster Tools") is a free tool provided by Google, and is a standard tool in the SEO's toolkit. GSC provides rankings and traffic reports for top keywords and pages, and can help identify and fix on-site technical issues.
2. Google Ads Keyword Planner : Keyword Planner is another free tool provided by Google, as part of their Google Ads product. Even though it is designed for paid search, it can be a great tool to use for SEO since it provides keyword suggestions and keyword search volume, which can be helpful when doing keyword research.
3. Backlink analysis tools : There are a number of link analysis tools out there, the two primary ones being AHREFs and Majestic. Backlink analysis tools allow users to analyze which websites are linking to their own website, or the websites of competitors, and can be used to find new links during link building.
4. SEO platforms: There are many different SEO platforms that bring together many of the tools that SEO needs to optimize sites. Some of the most popular include Moz, BrightEdge, Searchmetrics and Linkdex. These platforms track keyword rankings, help with keyword research, identify on-page and off-page SEO opportunities, and many other tasks related to SEO.
5. Social media: Most social media sites don't have a direct impact on SEO, but they can be a good tool for networking with other webmasters and building relationships that can lead to link building and guest posting opportunities.
SEO strategies and best practices
Let's finish off with some SEO strategies, best practices, and tips to help you get the most out of your time.
1. Always Search The Keyword: What you think users are looking for when they perform a particular search in Google may not be what they're actually looking for. Keyword intent matters, so always search the keywords you're trying to target to make sure you have an intent match.
2. Be Patient: SEO takes time. Like, a lot of time. It can take a few months before you really start to see the fruit of your efforts, but once you start seeing the impact, the benefits compound over time—so don't give up prematurely!
3. Focus On Quality: Google is always updating its algorithm and coming out with new SERP features, but at the end of the day, it's all designed to surface the best content out there. So your focus should always remain on creating useful, trustworthy content consistently. That is the best SEO strategy above all else.
4. Maintain Your Content: While the consistent publication of quality content is the top Google ranking factor, this should not be at the expense of letting old content go stale. Regularly refresh your evergreen pages to preserve their SEO value and get consistent traffic growth over time.
5. Track and Measure: Report on your traffic and site data regularly so you can see what topics resonate most with your audience, detect issues, and set goals for traffic growth.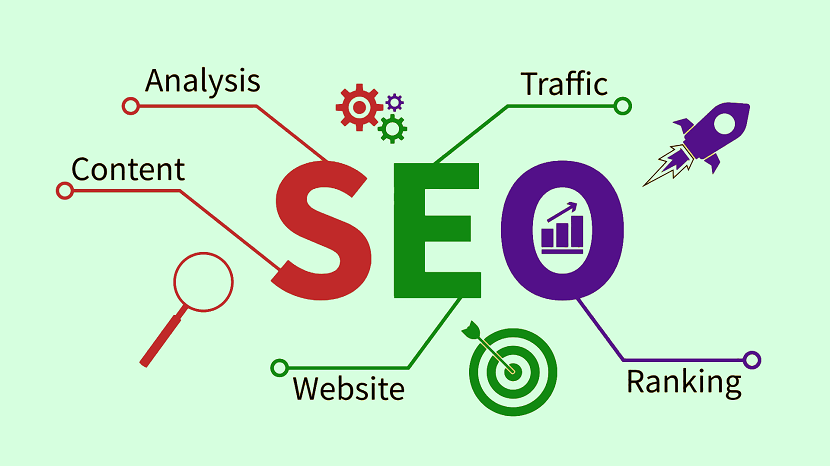 FAQs - SEO
1. What is SEO?
SEO stands for search engine optimization, the process by which marketers attempt to get more visibility for their website in search engine results pages on Google, Bing, Yahoo, DuckDuckGo, and other search engines.
2. How does SEO work?
Through the use of technical, on-page, and off page SEO tactics, marketers effectively tell search engines what their website is about and why it should rank well in search engine results pages.
3. How long does it take for SEO to work?
SEO is not a fast track to success. It never was and never will be. You need to have a long-term plan when it comes to SEO because it can take between six months and a year to rank for most keywords.
4. What is the most important factor in SEO marketing?
There is no one factor that is most important because they're all important. If I had to pick something you should focus on, it would be providing quality information to people. You can have all the SEO pieces in place, but if your content isn't good, it doesn't matter because people won't be interested in you.
Conclusion
I hope you got a lot out of this guide because there is a lot of information here. Be sure to refer back as you make your way through your SEO marketing journey. The most important thing to remember about SEO is there are no shortcuts in this game. You need to do things the right way and go the extra mile because that's how you'll stand out.
Expect to devote at least six months to it if you want to see results. Those who say SEO is a "set it and forget it" strategy are wrong. You'll want to stay on top of your content, update it regularly, and continue creating great new content to refresh your site and show Google you're still active.
Disclaimer : The original content is What is Search Engine Optimisation (SEO)? and owner ( RGB Web Tech ) reserved rights for content