Last updated on March 25th, 2023 by A1 True Jobs
Introduction of Shopify
Shopify is a leading eCommerce website builder that empowers businesses of all sizes to establish and manage their online stores. With a user-friendly interface and a wide array of customizable themes and templates, Shopify simplifies the process of creating professional and visually appealing online stores. It provides a comprehensive suite of features, including inventory management, secure payment options, order fulfillment, and customer support tools. Shopify offers seamless integration with numerous third-party applications, enabling businesses to enhance their store's functionality and scalability. Its robust analytics and reporting tools help businesses gain valuable insights and make data-driven decisions. With its extensive range of features and user-friendly interface, Shopify is a go-to platform for anyone seeking to launch and grow their eCommerce business.
Table of Article Contents
How does Shopify work?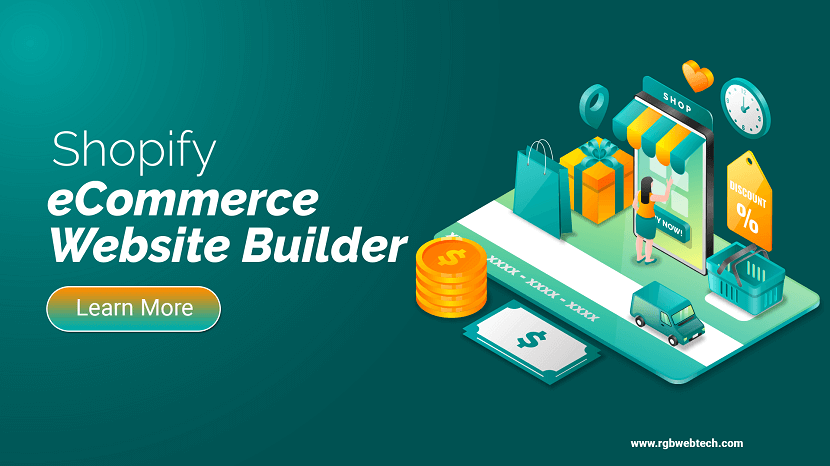 Shopify works as an all-in-one eCommerce website builder, providing businesses with the tools they need to create and manage their online stores. Here's a simplified overview of how Shopify works:
1. Sign up and create a store: To get started, you sign up for a Shopify account and go through the setup process. This involves selecting a store name, customizing the design with themes and templates, and adding products.
2. Product management: With Shopify, you can easily add, edit, and organize your products. You can upload product images, set prices, manage inventory, create product variations, and categorize items into collections.
3. Store customization: Shopify offers a range of customizable themes and templates. You can modify the design elements, such as colors, fonts, and layouts, to match your brand and create a unique online store.
4. Payment processing: Shopify integrates with various payment gateways, allowing you to accept online payments securely. It supports popular options like credit cards, PayPal, Apple Pay, and more.
5. Order management: When customers make purchases, Shopify helps you manage the orders efficiently. You can view and process orders, track shipments, send notifications to customers, and handle returns and refunds.
6. Marketing and SEO: Shopify provides built-in marketing tools and SEO features to promote your online store. You can create discount codes, run marketing campaigns, optimize product pages for search engines, and integrate with social media channels.
7. Apps and integrations: Shopify offers an extensive app store where you can find additional functionalities and integrations. These apps can enhance your store's features, such as email marketing, customer support, analytics, and inventory management.
8. Analytics and reporting: Shopify provides detailed analytics and reports to track your store's performance. You can monitor sales, visitor behavior, conversion rates, and other key metrics to make data-driven decisions and optimize your business strategy.
9. Security and reliability: Shopify ensures the security of your store and customer data. It includes features like SSL certificates, PCI compliance, and automated backups, providing a secure shopping experience.
10. Scaling your business: Shopify is built to scale with your business. Whether you're starting small or growing rapidly, it offers flexible plans and options to accommodate your needs, including advanced features like multi-channel selling and enterprise solutions.
Pros and cons of Shopify
Pros of Shopify
User-friendly interface: Shopify is known for its intuitive and easy-to-use interface, making it accessible for beginners with no coding experience.
Extensive customization options: It offers a wide range of customizable themes and templates, allowing businesses to create unique and visually appealing online stores.
Robust features: Shopify provides a comprehensive set of features, including inventory management, secure payment options, order fulfillment, and customer support tools, enabling businesses to efficiently run their operations.
App ecosystem: The Shopify App Store offers a vast selection of apps and integrations to enhance the functionality of your store, allowing you to add features and integrate with third-party tools.
Reliable and secure: Shopify takes care of hosting, security, and updates, ensuring that your online store is reliable, secure, and PCI compliant.
Mobile-responsive design: Shopify themes are optimized for mobile devices, providing a seamless shopping experience for customers on smartphones and tablets.
Scalability: Shopify can accommodate businesses of all sizes, from small startups to enterprise-level operations, providing scalability and flexibility as your business grows.
Excellent customer support: Shopify offers 24/7 customer support through various channels, including live chat, email, and phone, ensuring that assistance is available when you need it.
Cons of Shopify
Transaction fees: Shopify charges transaction fees for every sale made through a third-party payment gateway, which can add up and impact profitability, although using Shopify Payments eliminates these fees.
Cost: While Shopify offers various pricing plans, some businesses may find the subscription fees and additional costs for themes and apps to be relatively higher compared to other eCommerce platforms.
Customization limitations: While Shopify provides a range of customization options, businesses with more complex or specific design requirements may find certain limitations in modifying the themes and templates.
Learning curve for advanced features: While the basic setup is user-friendly, some advanced features may require technical knowledge or additional learning to utilize effectively.
Migration challenges: If you already have an existing eCommerce platform and want to migrate to Shopify, the process may involve some complexities, especially when it comes to transferring data and preserving SEO rankings.
What can you sell on Shopify?
Shopify is a versatile eCommerce website builder that allows you to sell a wide range of products and services. Here are some examples of what you can sell on Shopify:
1. Physical products: This includes tangible items such as clothing, electronics, home goods, accessories, beauty products, and more. You can set up product variations, manage inventory, and fulfill orders for physical goods.
2. Digital products: Shopify supports the sale of digital products like e-books, software, music, videos, courses, and graphic designs. Customers can download or access these products electronically after purchase.
3. Services: Shopify enables businesses to sell services, such as consulting, coaching, graphic design, web development, event planning, and various professional services. You can create service listings and accept bookings or appointments through the platform.
4. Subscriptions: With Shopify's recurring billing feature, you can sell subscription-based products or services. This includes subscription boxes, memberships, software licenses, or any product that customers can subscribe to on a recurring basis.
5. Dropshipping: Shopify integrates seamlessly with dropshipping apps and platforms, allowing you to sell products from suppliers without having to handle inventory or fulfillment. You can create a store, choose products to sell, and the supplier ships the products directly to customers.
6. Handmade and crafts: If you create handmade products or crafts, Shopify provides a platform to showcase and sell your unique creations. This can include items like jewelry, artwork, ceramics, candles, and other artisanal products.
7. Wholesale and B2B: Shopify offers features for businesses that want to sell products in bulk or target other businesses as customers. You can set up wholesale pricing, create customer-specific catalogs, and manage bulk orders.
8. Events and tickets: Shopify allows you to sell tickets for events, concerts, workshops, or any kind of ticketed experience. You can manage ticket inventory, set pricing tiers, and handle ticket delivery or check-in through the platform.
These are just a few examples, and the flexibility of Shopify allows you to sell almost any type of product or service. Whether you have a physical store and want to expand online or you're starting a brand new eCommerce business, Shopify provides the tools and features to support a wide range of product offerings.
What is Shopify POS (Point of Sale)?
Shopify POS (Point of Sale) is a system that enables businesses to sell products and accept payments in-person, whether it's at a physical retail store, pop-up shop, trade show, or any other offline location. It seamlessly integrates with the Shopify eCommerce platform, providing a unified system for online and offline sales. Here are key features and benefits of Shopify POS:
1. Hardware integration: Shopify POS works with a range of hardware devices, including iPads, iPhones, Android devices, barcode scanners, receipt printers, and cash registers. This allows businesses to set up a complete point-of-sale system tailored to their needs.
2. Centralized inventory management: With Shopify POS, inventory management becomes centralized across online and offline channels. It automatically updates inventory levels in real-time, ensuring accurate stock counts and avoiding overselling.
3. Product and order management: You can easily add products, set prices, and organize them into collections within the Shopify POS system. It also enables you to create orders, apply discounts, and manage customer information for in-person transactions.
3. Omnichannel selling: Shopify POS enables businesses to seamlessly switch between online and offline sales. You can sell products from your online store in-store and vice versa, providing a consistent shopping experience for customers.
4. Payment options: Shopify POS supports various payment methods, including credit cards, debit cards, cash, gift cards, and digital wallets. It integrates with leading payment providers, ensuring secure and reliable payment processing.
5. Customer management: You can create customer profiles, track purchase history, and collect customer information at the point of sale. This data can be utilized for personalized marketing, loyalty programs, and customer support.
6. Offline capabilities: In case of an internet outage, Shopify POS has offline capabilities. It allows you to continue accepting payments and processing orders, which will sync with the Shopify platform once you're back online.
7. Reporting and analytics: Shopify POS provides detailed reports and analytics, giving insights into sales, inventory, and customer behavior. This data helps businesses make informed decisions and optimize their operations.
Shopify POS offers a seamless integration between your online and offline sales channels, providing a unified system for inventory management, order processing, and customer engagement. It simplifies the process of selling products in-person and ensures a cohesive experience for both merchants and customers.
Alternatives of Shopify
There are several alternatives to Shopify as eCommerce website builders. Here are some popular ones:
1. BigCommerce: BigCommerce is a scalable eCommerce platform that provides a comprehensive set of features to build and grow an online store. It offers a wide range of customizable templates and integrates with various third-party tools.
2. PrestaShop: PrestaShop is an open-source eCommerce platform that provides a flexible and customizable solution for building online stores. It offers a range of features, modules, and templates.
3. Squarespace: Squarespace is a popular website builder that includes eCommerce functionality. It offers visually appealing templates and a user-friendly interface to create and manage an online store.
4. Volusion: Volusion is a comprehensive eCommerce platform that provides tools for building and managing an online store. It offers customizable templates, marketing tools, and various integrations.
5. WooCommerce: WooCommerce is a powerful plugin for WordPress that allows you to turn your WordPress website into a fully functional eCommerce store. It offers a wide range of themes and extensions to customize your online store.
These are just a few alternatives to Shopify, and each platform has its own strengths and target audience. When choosing an eCommerce website builder, consider factors such as your business needs, budget, scalability requirements, customization options, and the level of technical expertise required.
Final Verdict Shopify
In summary, Shopify is a top-notch eCommerce website builder that offers a user-friendly interface, a wide range of customizable themes, and powerful features to create and manage online stores. It provides scalable solutions for businesses of all sizes, with reliable security measures for online transactions. While the cost and specific needs of a business may vary, Shopify's extensive integrations, app ecosystem, and strong customer support make it a popular choice. Overall, Shopify is a reliable and comprehensive platform that empowers businesses to establish and grow their online presence with ease.
Disclaimer : The original content is Build eCommerce Website with Shopify - FREE Trial and owner ( RGB Web Tech ) reserved rights for content